The SEMFed holds events throughout the year which are for all members at minimal cost. Our events offer an opportunity for informal networking with fellow museums professionals.
Upcoming events
Details of our October Study Day will be published here soon.
---
Past events
Transformation —

SEM

Fed Study Day and 2022

AGM
Tuesday 5th July 2022
The annual SEMFed AGM was held at the brand new home of Suffolk Archives, The Hold in Ipswich, on the theme of transformation. Read the report here.
Museum Collections: Past, Present and Future
Thursday 24th March, 10am-12noon, online event
Have you ever looked at a museum object and thought "why is this here?" or "should this be here?". You are not alone! Everybody who works in museums or heritage or archives has asked themselves this sort of question at one time or another. Read a report on the day here.
SEMFed Study Day: Six Centuries of Food and Dining at Eton College
Friday 29th October 2021, 10.45am‑2.45pm
Eton College, Windsor, SL4 6DW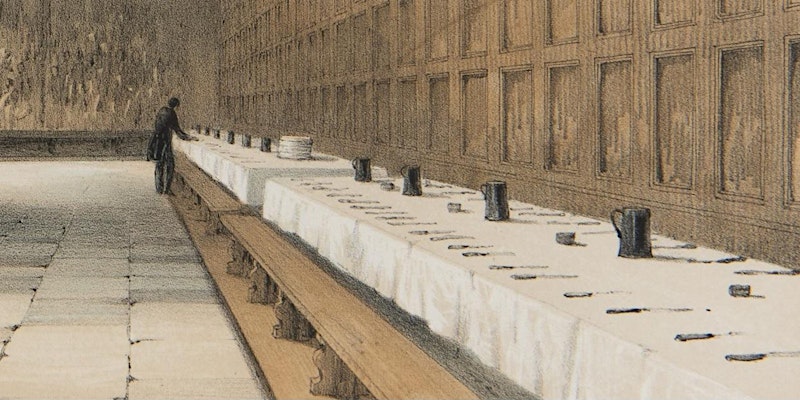 This Study Day took place at Eton College, and examined the research, installation and programming around their exhibition, 'Six Centuries of Food and Dining at Eton College'. Read a report on the day here.
SEMFed Study Day in Cambridge and

AGM

2021
The 2021 SEMFed AGM and study day was held at the Whipple Museum of the History of Science and the University Museum of Zoology in Cambridge. Read a report on the day here.
SEMF

Study Day March 2021: Remote audience programmes — what have we learnt so far?
Monday 8th March, 10.00am-12.30pm
With daily life still far from normal we will be took a look at how museums and other heritage organisations in our region adapted to engaging with audiences remotely. Through a range of case studies, we heard about how we had still been reaching schools and communities in new ways, and what had been learnt so far. Read the report here.
Audience engagement in lockdown – case studies from Suffolk museums
Monday 19th October 2020
Our first online event! We heard how museums across Suffolk have shifted their audience engagement activities during lockdown. Read the report here.
Amersham Museum, Study Day
Monday 21 October 2019
We visited the recently redeveloped Amersham Museum in Buckinghamshire and had a day jam packed with engaging talks and interactive sessions showcasing the Museum's activities.
Welwyn Hatfield, Mill Green Museum Study Day +

AGM
Monday 1 July 2019
Our annual SEM Fed AGM was held in the beautiful surroundings of Mill Green Museum & Mill in Hertfordshire.
To read a report of the day, visit the news page here.
Study Day at Royal Airforce Museum, Hendon, London
Thursday 28 March 2019
If you didn't make it to study day, never fear, our wonderful study report is here.
If you would like to read about our past study days, visit our News Page for previous articles.